One of the reasons why an organization is struggling with cloud adoption is they don't know where to start. Do you go with #AWS or #Azure? Well, here is a head-to-head comparison of the two most popular cloud service providers in the market
We compare two of the most popular cloud service providers out there. Do you agree with the analysis?
By Vishal Padghan | Feb. 28, 19
With cloud computing at its prime, various cloud service vendors have contested to claim supremacy in the cloud domain. AWS and Azure have been relentless and have taken the top honors for a while now. However, the question that bothers people most is which cloud vendor to choose. In this article, we will be comparing these cloud giants to help you figure out what suits your business needs better.
AWS vs Azure: General Features
The table puts forth a good enough comparison between these cloud giants based on some general features:
Now that the general comparison is out of the way, let us take a look at the pricing numbers for the two giants.
Pricing
Both Azure and AWS Pricing models offer a pay-as-you-go structure. AWS charges you on an hourly basis, whereas Azure charges you on a per minute basis. When it comes to short-term subscription plans, Azure gives you a lot more flexibility. In the case of certain services, Azure tends to be costlier than AWS when the architecture starts scaling up.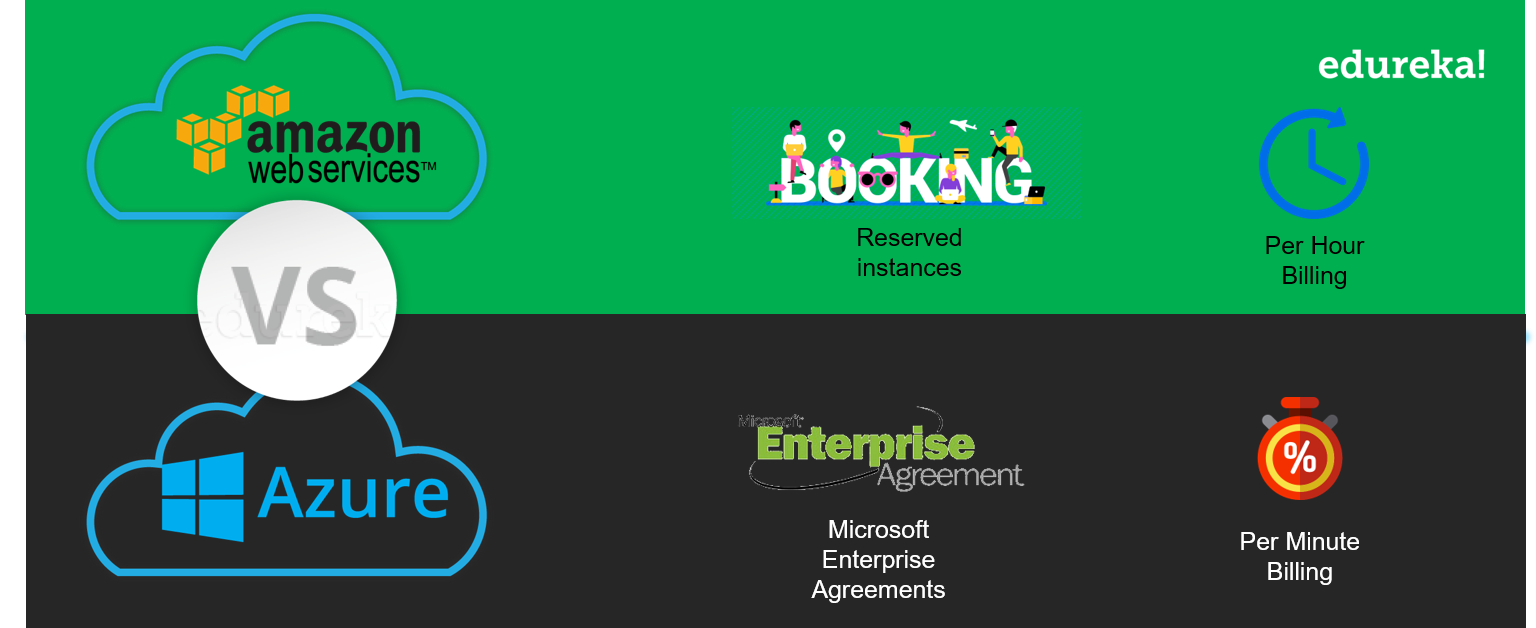 Compute Services
Computation or compute services are one of the core services when it comes to cloud computing.
With the large amount of data being generated these days, there is always a need for a faster means of processing. Compute services ensure you can spawn instances in minutes and scale up instances instantly if needed. AWS and Azure both have services that cater these needs.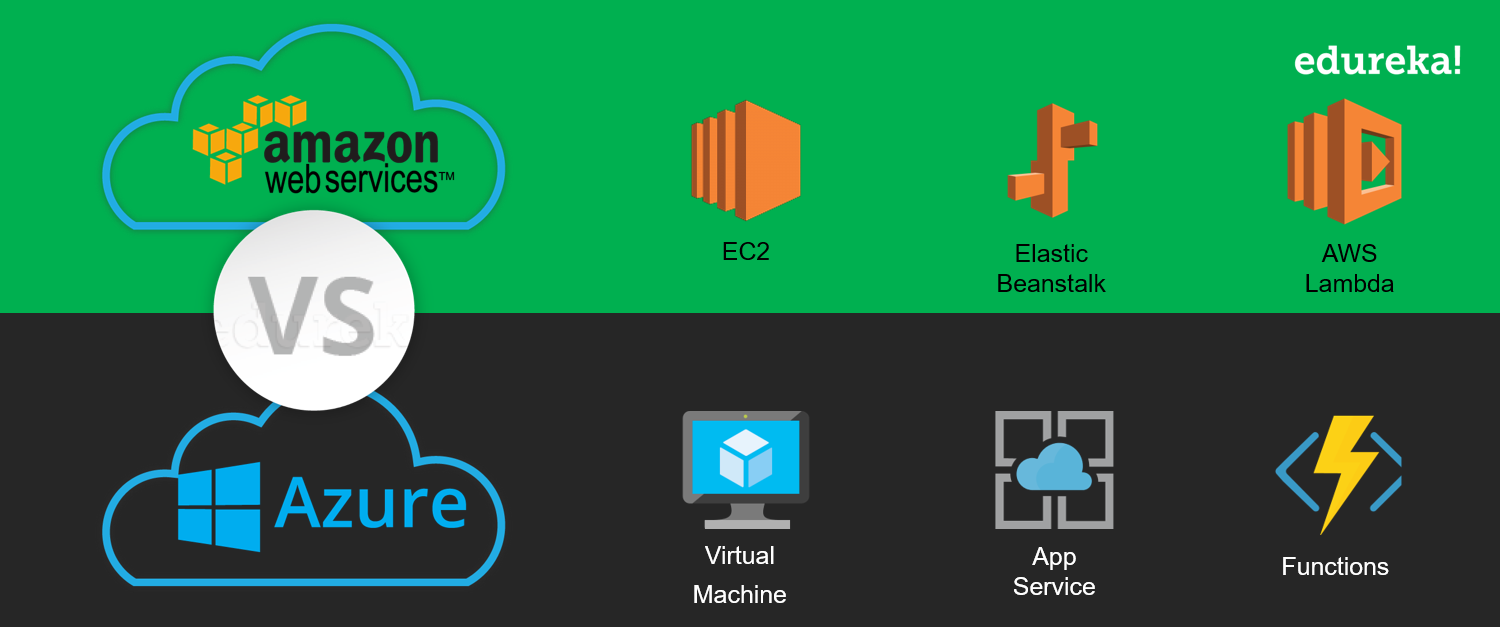 AWS has services like EC2, Elastic Beanstalk, AWS Lambda, and ECS. Azure has services on similar lines like Azure Virtual Machine, App Service, Azure Functions and Container Services. So it is evident that these services are fairly neck and neck.
However, when you compare the cost, Azure instances tend to get costlier as the size increases. When you consider an instance with 256GB RAM and 64vPCU, AWS will charge you $3.20/hour, whereas Azure will charge around $6.76/hour.
Now that we have taken care of computation, the next big concern is storing this data.
Storage Services
Both AWS and Azure provide long-running and reliable storage services. AWS has services like AWS S3, EBS, and Glacier,  whereas Azure Storage Services have Blob Storage, Disk Storage, and Standard Archive.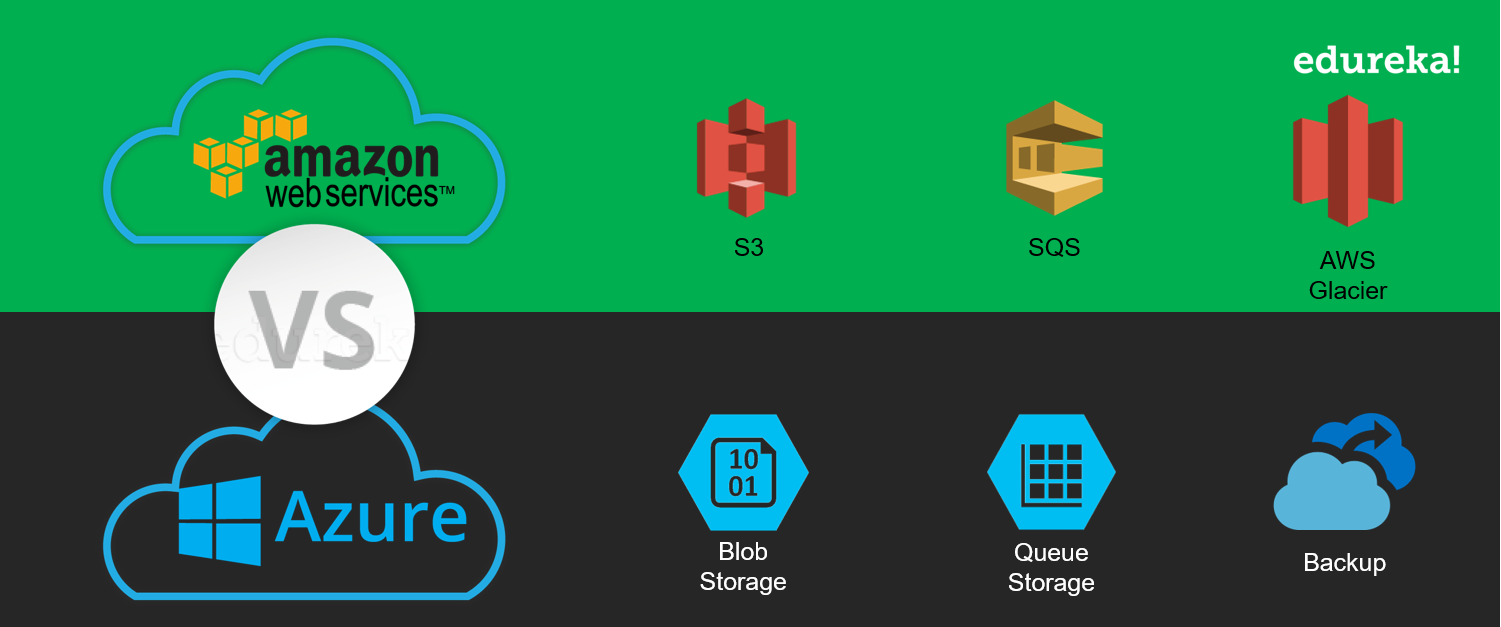 AWS S3 ensures high availability and automatic replication across regions. When it comes to temporary storage in AWS, it starts functioning each time the instance starts and stops. On termination, it provides block storage similar to hard disks and can be attached to any EC2 instance or kept separate.
Azure uses temporary storage and page blobs for VM volume. Azure has a Block Storage option as a counterpart to S3 in AWS. In addition, Azure also provides two types in their storage, cold and hot storage.
Let us now take a look at how these two fare in terms of database services.
Database Services
The data being generated these days comes in different formats, so the databases that hold this data also need to evolve. AWS and Azure both provide different database services to handle both structured and unstructured data.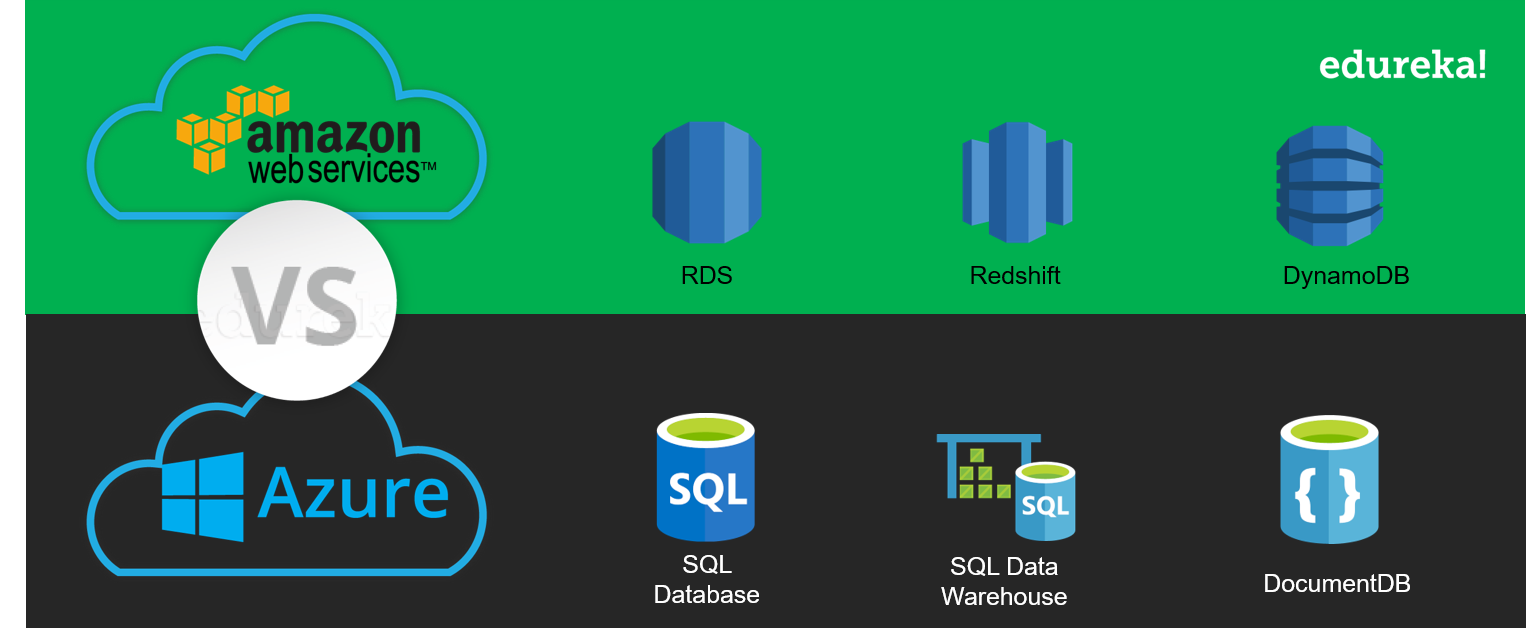 If you are looking for durability, AWS has Amazon RDS and Azure has Azure SQL Server Database. Amazon RDS supports different database engines like MariaDB, Amazon Aurora, MySQL, Microsoft SQL, PostgreSQL, and Oracle whereas when it comes to Azure, SQL Server Database is based on SQL, as the name suggests.
When you consider the interface, Azure has a friendlier or a smoother one whereas AWS provides better provisioning with more instances. As it can be seen, both tools have their features to boast. If we were to talk about the reach of these services, they are fairly even with both having services for analytics and big data. AWS has EMR whereas Azure has HD Insights for the same. Azure also provides Cortana Intelligence Suite that comes with Hadoop, Spark, Storm, and HBase.
In terms of maturity, AWS provides a more mature environment for Big Data in particular.
Networking Services
Amazon Virtual Private Cloud (VPC) enables the creation of isolated networks under the cloud umbrella. This enables users to create subnets, route tables, private IP address ranges, and network gateways.
Microsoft Azure Virtual Network is a counterpart to VPC and lets you do all the stuff VPC does. Both the vendors have solutions to extend the on-premise data center into the cloud and firewall options as well.
Container and Orchestration Support
We have already established that AWS provides more matured big data and analytics offerings. It has various services in its arsenal that cover domains like IoT, mobile apps development, or creation of a computing environment depending on needs. They also offer support for Docker.
Microsoft is an equal here and may go a step further, as it offers Hadoop support with services like Azure HD Insight. Azure that Windows Server 2016 provides integration with Docker for both Windows containers and Hyper-V containers. The platform also runs Windows or Linux containers.
Compliance
Amazon has a great relationship with government agencies, ensuring better government cloud offerings. They also provide great security measures ensuring proper access to individual users when it comes to accessing the cloud, this factor is crucial when companies are dealing with sensitive data.
Microsoft offers more than 50 compliant offerings. Some notable ones include ITAR, DISA, HIPAA, CJIS, and FIPS. When it comes to security its neck and neck with AWS.
Final Score
Both cloud platforms show potent capabilities and it is difficult to pick a clear winner. Azure is great when it comes to hybrid cloud and integrating with Microsoft stack of products, whereas AWS has more flexibility and extra features. It very much boils down to the requirements you or your organization has. So choose wisely.